About Us

We feel pride to introduce our-selves as a renowned manufacturer of overhead transmission line-material like GANG OPERATED AIR BREAK SWITCH, DROPOUT FUSE HORN GAP FUSE AND OPERATING ROD discharging rod Insulator, Isolators and Earthing Materials. We have experience of more than 46 years in this industry.

Our products cover Drop out Fuse, H.T. & L.T. Porcelain and Silicon Insulators, Transmission line material and sub-station equipment, overhead line Material. AB Switch, DO Fuse, LBS, Lightning Arrester, Fuse Elements, Galvanized Hardware, Stay Set, Rubber Hand-Gloves. Rubber Sheet, A.C.S.R. Conductor. A.A.A Conductor. The high quality LBS, Air Break Switch, Drop out fuse Discharging Rod Operating Rod and Earthing Electrode are successfully tested at Central Power Research Institute, Bangalore, and Bhopal as well as ERDA Baroda NSIC Kolkata. The quality tests are short-circuit test and high voltage impulse test Mechanical Endurance test. Our business is supported by Electricity Board, Wind Mill and Solar as a major client for last 46 Years.

Our products are manufactured with high quality raw materials as well as components that are procured from noted and quality conscious vendors of the industry. Our products are LBS, Air Break Switch, Earthlings Electrode, Disconnecting Switch, Lighting Arrester, Isolator, Insulator, Drop Out Fuse and Operating Rod, Discharging Rod, Horn Gap Fuse, High-tension Switchgear, Overhead, Line Materials, Sub-Station Equipment, ACSR Conductor, AAAC Conductor, Polymer Insulator, Porcelain Insulator, Shock Proof Equipment's Fire safety Equipment's, Aluminium Clamp & Connector, Aluminium Ladders, Street Light Pole and Cable Jointing kids.

OUR QUALITY POLICY

Since, we, NATIONAL POWER INDUSTRIES are serving international customers, it becomes important for us to adhere to international quality standards and practices. The production stages as well as service procedures undergo various quality checks, which initiates right from the sourcing of raw material until the delivery of the final products and services.

We are equipped with technologically aided and superior quality testing machines to assure premium quality and flawless products. These machines are operated by our highly experienced quality engineers.

In our chosen domain, we strive to retain our market leadership in India and continue to be globally competitive through excellence in quality, technology and innovation along with customer orientation.

OUR QUALITY ENDEAVOURS

We adhere to the highest quality standards while ensuring that all our clients receive high quality products and services. To ensure consistency in quality and attain client satisfaction, our operations follow a well organized programme on quality control.

We endeavor to raise standards of our product & performance so as to assure complete satisfaction through excellence in technology and quality. With our streamlined work process, we are able to maintain quality at every stage of functioning

Quality Assurance

We believe that it is the quality of our range that sets us apart from our competitors across the Globe. As a part of our endeavor, we follow a strict quality policy in our organization to ensure that the Outdoor Triple Pole, Outdoor Expulsion Type Drop Out Fuse With Channel Base, Outdoor Expulsion Type Drop Out Fuse With Double Stack, etc. delivered to our clients are flawless in quality.

Owing to our excellent quality controllers, we are able to win the trust and support of our quality conscious clients based in various countries of the world. We inspect each stage right from the time of procurement of raw materials till the final packaging and storing of the finished-product. Some of the parameters on which we perform checks are:


Durability
Installation
Operation

Our Facilities

We have established a modern manufacturing unit which is well integrated with all the necessary amenities for designing and fabricating of the Outdoor Expulsion Type Drop Out Fuse Solid core Insulator, Outdoor Horn Gap Type Fuse With Channel Base, FRP Operating Rod, and others. Our manufacturing plant is well equipped with latest machinery and equipment and is controlled by efficient personnel in perfect harmony.

Our well-integrated R & D unit is capable of fabricating variety of electrical and others products based on latest technological advancements. Moreover, the sound computer hardware and software support enables us to design superior product range in accordance with the clients' specifications or requirements.

Why Us?

We are one of the first and foremost preferences of our clients because:


Extensive industry knowledge
Products in compliance with international standards
Customized assortment
Customer oriented approach
Competitive price
Timely delivery of consignment.
Manufactured Products :

11/22/33 kV Drop Out Fuse
11/22/33 kV G.O.A.B Switch
11/22/33 kV Horn gap Fuse
11/22/33 kV Lightening Arrester
11/22/33 kV Operating Rod, Discharging Rod & fuse element
11/22/33 kV Operating Rod, Discharging Rod, Telescopic type & fuse element,
AB cable accessories
Alluminum. Brass & Copper metal parts & connectors
Cable Jointing Kits
CI, MS & GI Hardware Fittings
Earthing Electrode and other earthing material
Earthing material & shockproof equipment
Overhead Transmission Line Material
Porcelain and Polymer Insulators
Porcelain, HT & LT Insulators & Porcelain holder,
Shockproof equipments Like Rubber Sheet, Fire Extinguisher, Fire Bucket stand, Hand gloves, etc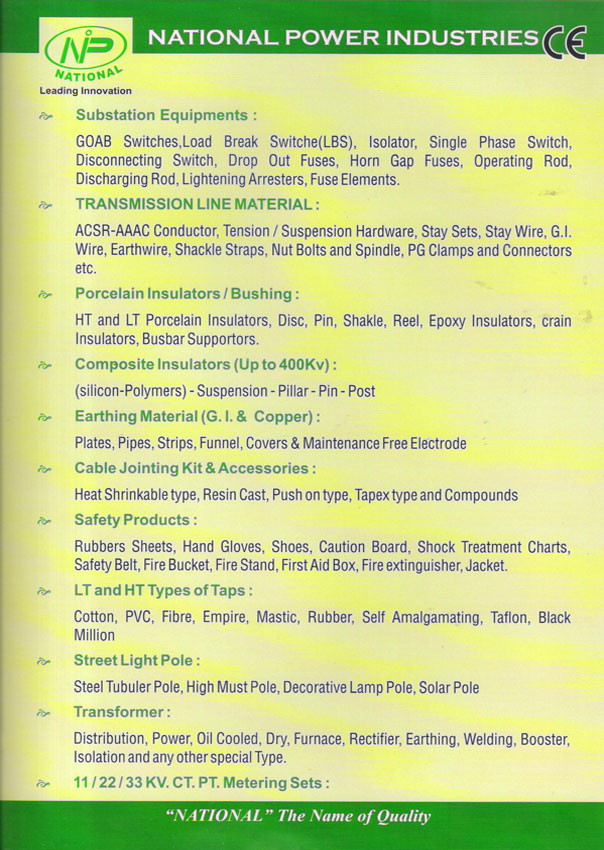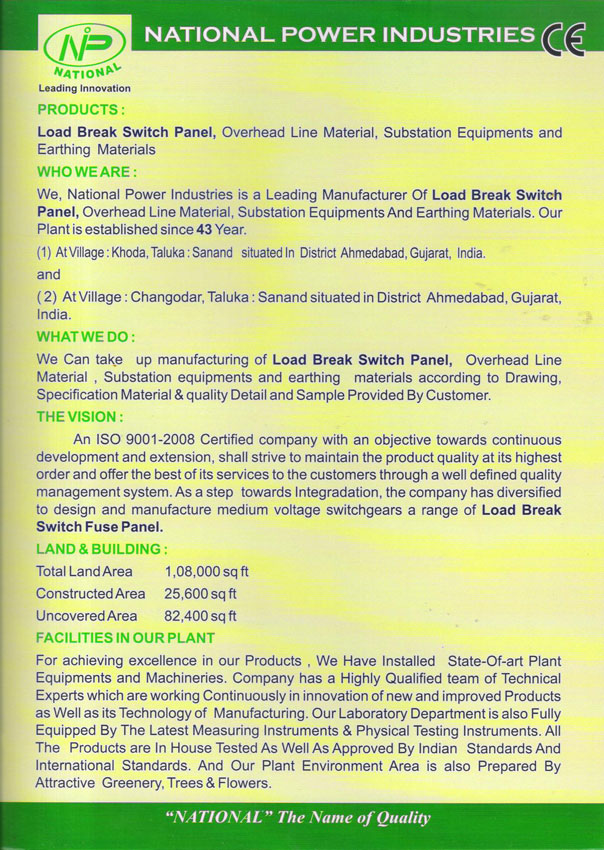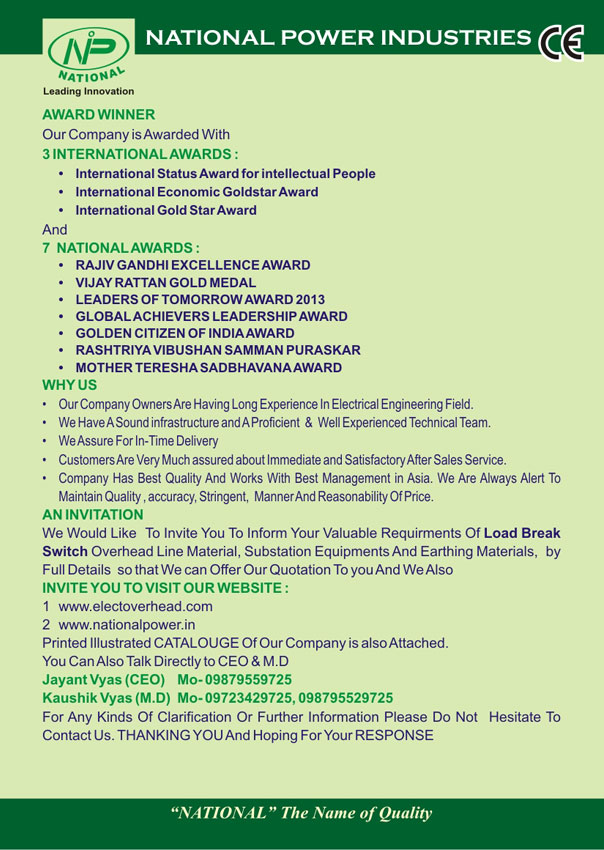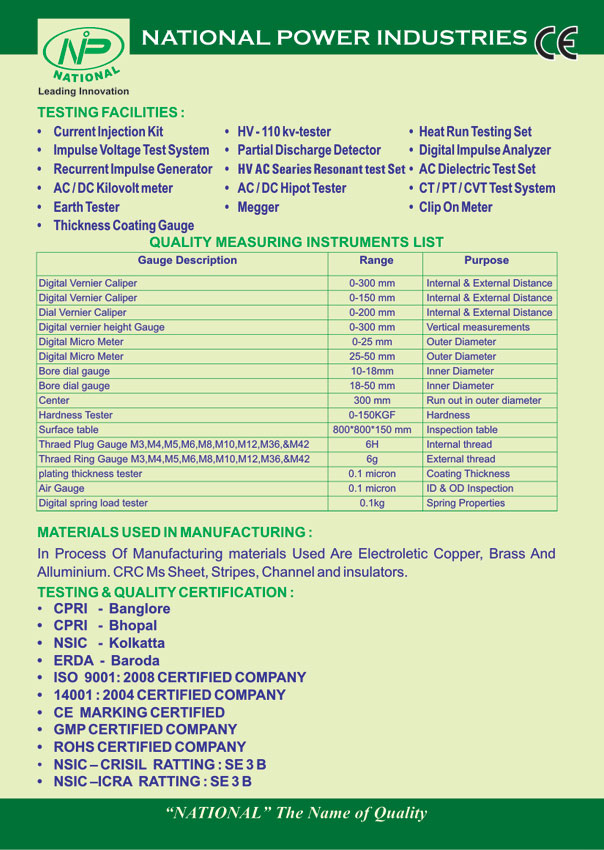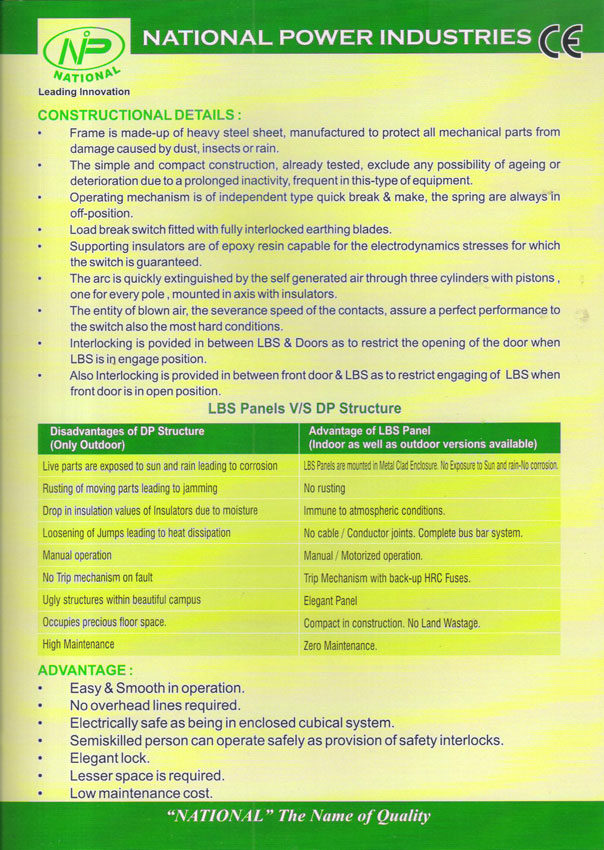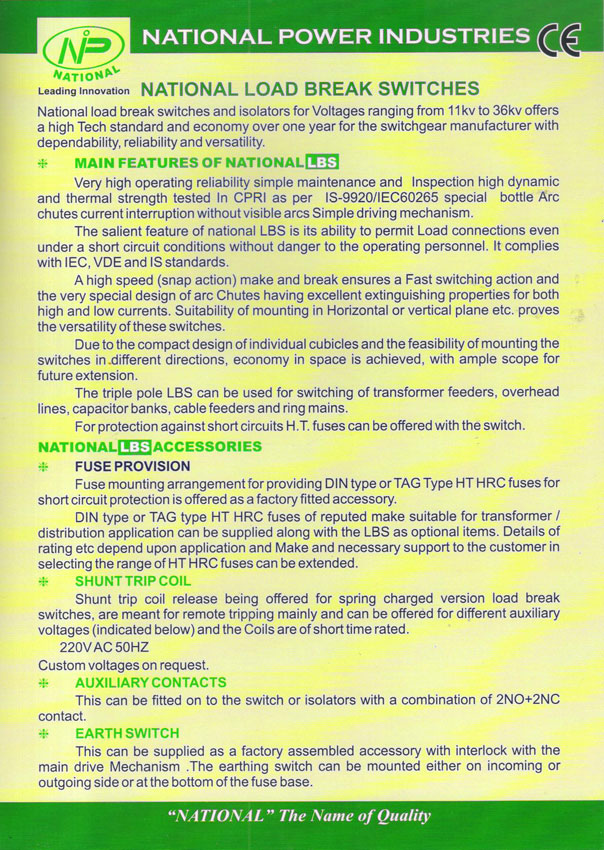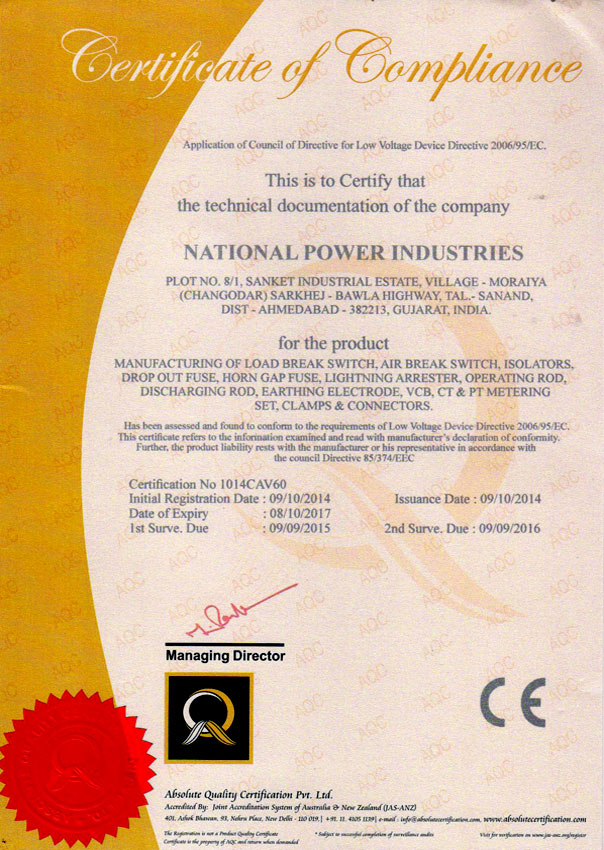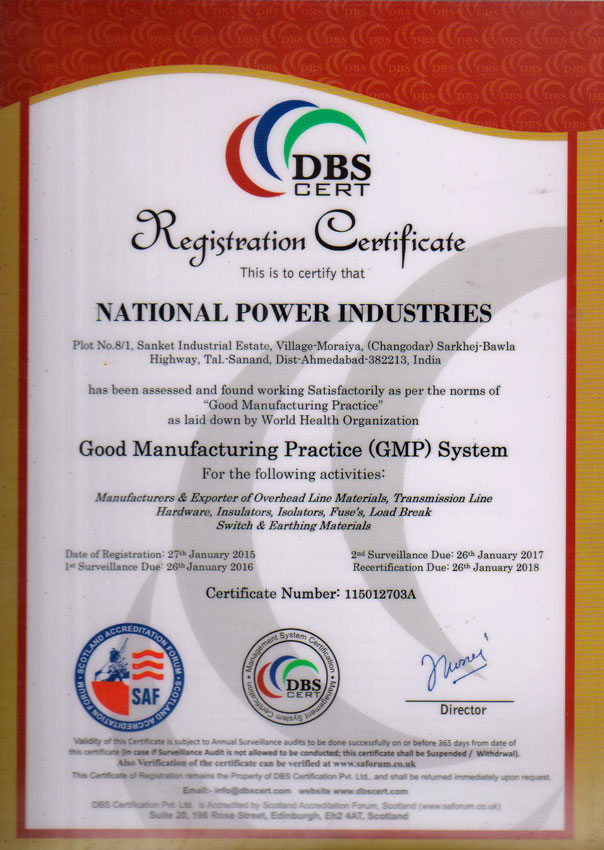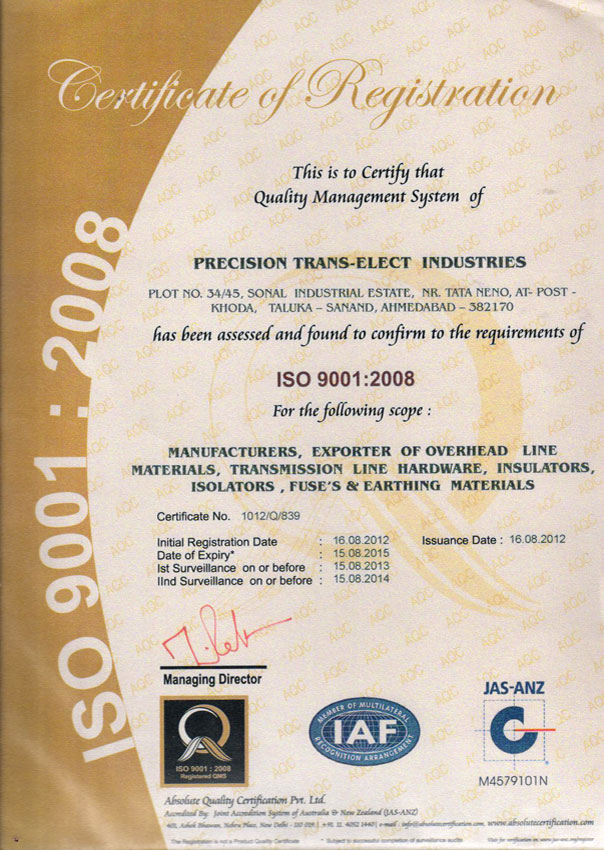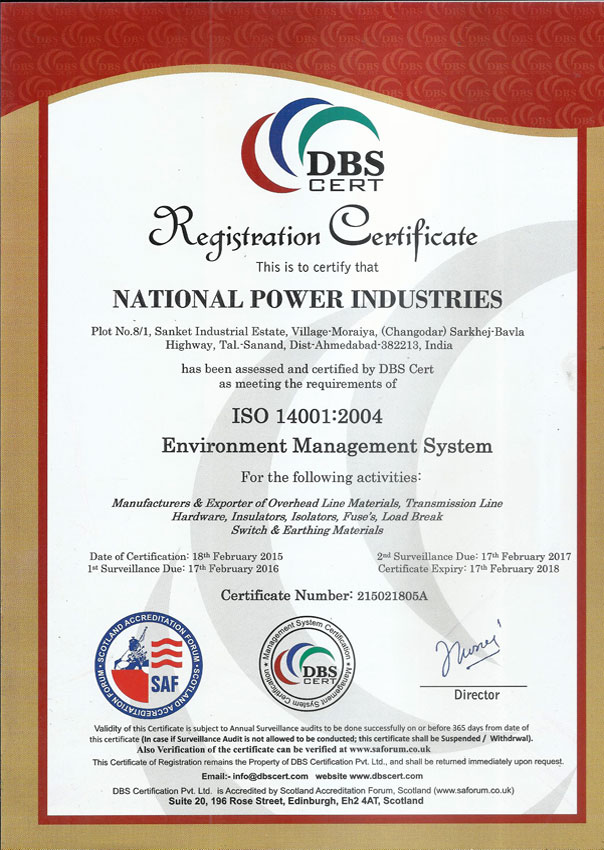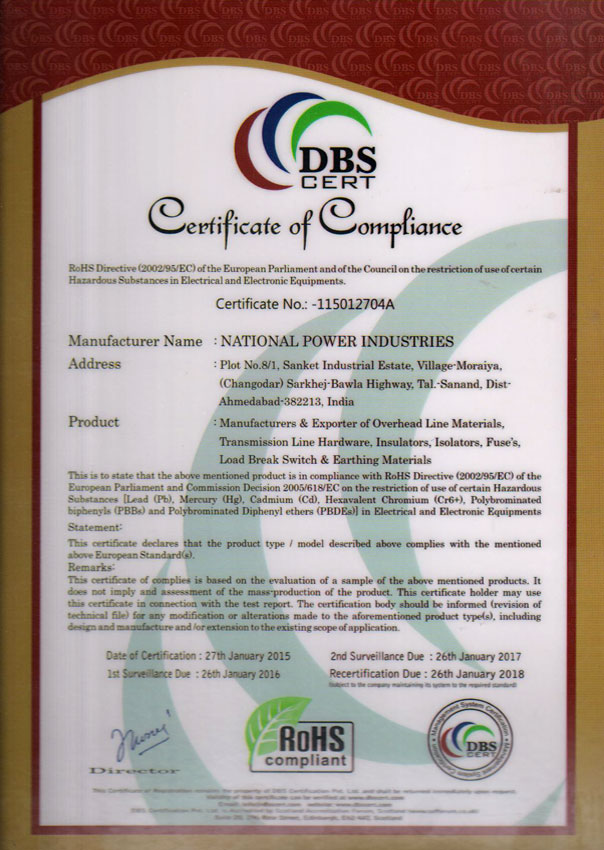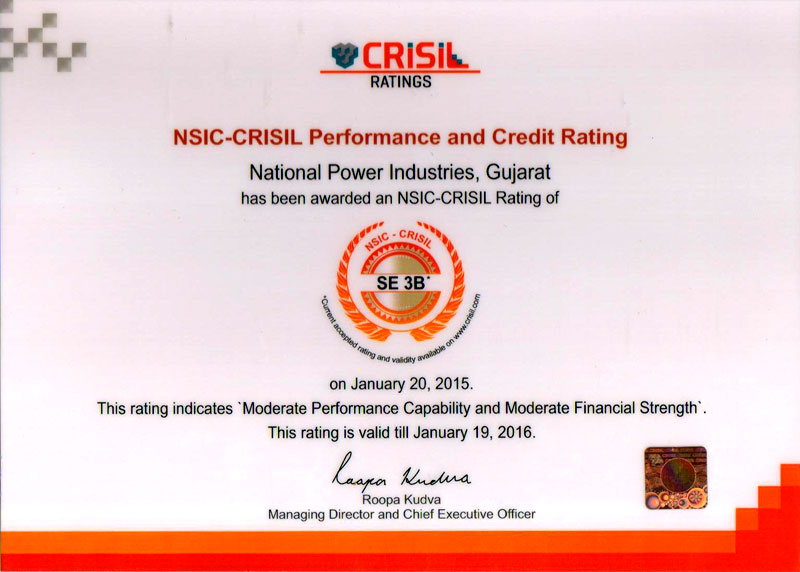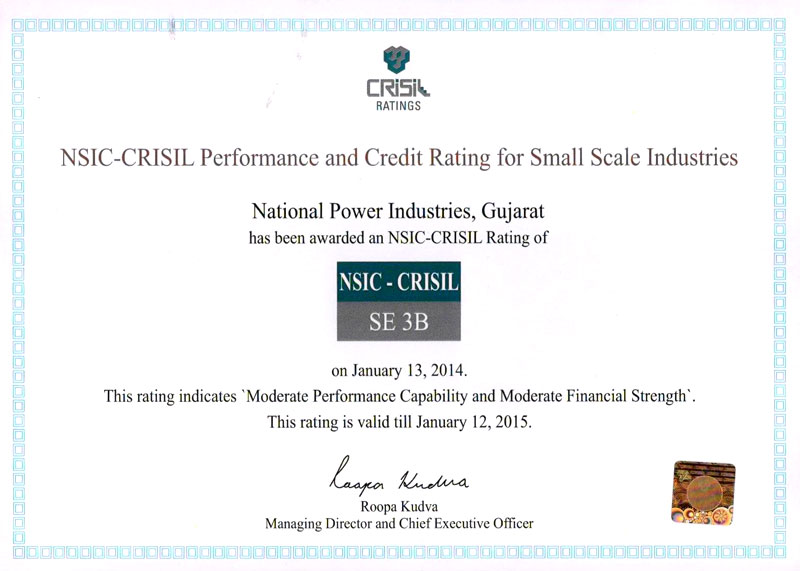 Read More